This is extracted from a post I published over on LinkedIn:
In partnership with UTS Faculty of Engineering, in particular Matthew Gaston and James Lucas, we are patching and benchmarking our machines to address the Spectre/Meltdown CPU vulnerabilities as well as assessing the impact on run times for OpenFOAM. I'm really pleased to say that so far in our initial testing we are not seeing the worst case projected 30% reduction in speed, with our results for multi-core processors in the order of a few percent at most or within the limits of the accuracy of the tests to determine.
Update 2018-01-17: just to clarify the purpose of this test was to isolate the effect of the kernel switches from RedHat. Further testing to investigate the BIOS patches is underway.
First up, our primary test machine was based around a Xeon E5-2699 v4, which is not the newest machine on the market but still very capable for OpenFOAM. The specifics are:
2 x Xeon E5-2699 v4 (2.6GHz)
256GB RAM
Dell R7910
RedHat 7.x
The machine was patched with both the Dell's BIOS and RedHat's OS patches. We have a standard benchmark based on the OpenFOAM motorbike tutorial but expanded to 24 million cells and the process is quite simple: run the same problem on a different number of cores with the RedHat kernel tunables turned off, so no fix in place, and then repeat with the fixes in place.
The results are really interesting in that for this machine we are seeing no significant change in the performance of OpenFOAM at higher core counts. Arguably, as this is a simple methodology, that variations recorded would be within the statistical bounds of measurement and that in face the results are essentially the same.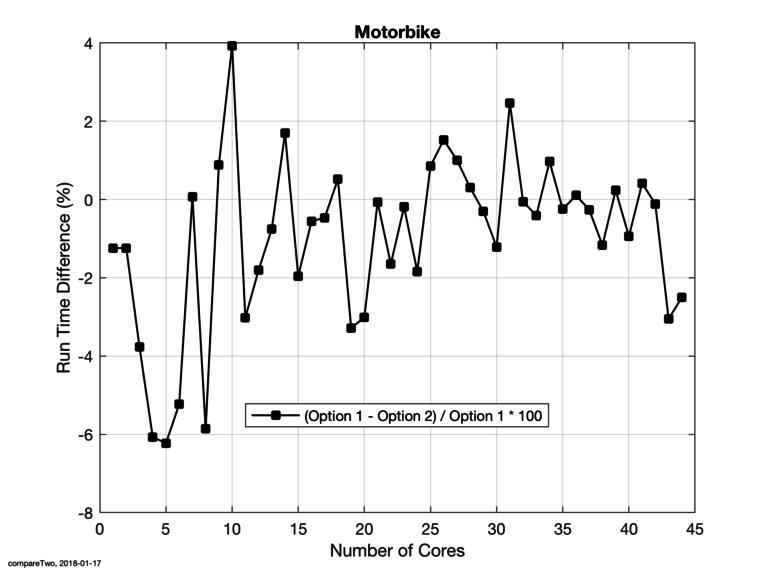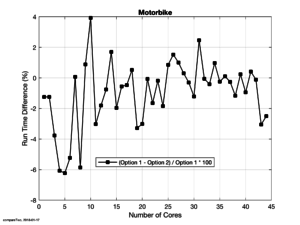 Option 1: is with the spectre/meltdown kernal tunables off
Option 2: is with them on.
We will continue to patch our machines and post results as we move through them all. Given that Intel has pledged more BIOS patches towards the end of January we will have to keep an eye on this space.
Finally, thanks for reading this article and please leave a comment below. If you are interested in being updated when similar items are posted then either subscribe via RSS or sign up to my mailing list below.